In August of 2016, I was brought on to develop the marketing department for one of the top custom bicycle manufacturers in the world. At its core, Speedvagen is a minimalist, modern race machine, built for each individual owner with a turnaround time of two weeks to two months, depending on the details. All design, fabrication, paint and buildout is done in-house in our Portland, Oregon workshop.
Create 3-4 Fit Tours
Increase web traffic
Increase social media following
Launch 2 new bikes
Raise awareness of the brand in new markets
Created 4 Fit Tours (East Coast, Southeast Asia/Australia, Texas and Europe)
Increased web traffic by over 15% per quarter
Increased social media following from 49,000 to 68,800 followers on Instagram and from 8,750 to over 11,000 on Facebook
Launched 3 new bikes (OG Classic, Ready Made Urban Race and Team Issue Cyclocross)
Raising awareness of the brand in Texas and Europe as well as new areas in Southeast Asia, Japan and Australia
Rebuilt the newsletter and grew it by over 1400 new subscribers
We make about 200 frames per year with a staff of about 15. This translates to a ton (roughly 150) hours per bike - a lot of time sweating the details. With so much attention going into the bikes and the customer experience, we came to realize that no matter how good we do everything else, without a great fit, the bike will only ever be "OK".
How to bring our own fit methods to our customers around the world? We looked at how craftspeople throughout time have solved this problem, made some modifications to the traditional notion of a trunk show and launched our Fit Tour.
Since 2015, our fit tours have taken us around the world to find our people. We ride their roads, share our bikes with those who have mostly seen them through the web and most importantly, these future Speedvagen owners get a full consultation and custom fitting session with founder Sacha White.
From August 2016 to August 2017 I've planned, promoted, designed, managed public relations and executed four Fit tours: East Coast (11/4/16 - 11/21/16 in Chicago, New York, Philadelphia, Washington DC, Greensboro and Asheville), Southeast Asia/Australia (2/16/17 - 2/25/17 Taiwan, Singapore and Melbourne), Texas (3/8/17 - 3/22/17 Ogden, Austin, Houston, Denver) and Europe (8/26/17 - 9/11/17 Amsterdam, London and Girona). I also created content or gathered content daily for social media coverage. To raise the bar from previous tours, I paired daily fitting sessions with several evening discussions, open houses, test rides, group rides, Speedvagen-owner dinners and we introduced a new program called the Fit Clinic.
The Speedvagen Fit Clinic is a three hour course where we share our fit principles and teach you how to apply them to your own riding. The goal is not to fit you, but rather to arm you with knowledge and confidence to dial things in on your own bike over the next several months of riding; This way when you're riding and you're feeling pressure here, or strained muscles there, you'll be able to think critically and dissect the issue.
Results:
Launched 2 new programs (Fit Clinic and Demo)
Held 42 events (Group Rides, Fit Clinics, Open Houses, Discussions)
57 bikes sold
Social Media is our main source of marketing. We primarily focus on Instagram, but have recently rebooted Facebook with both having the goal of pointing viewers back to our website. Content is king here and my focus is to use these tools to challenge our competition. I've learned to take pictures, work with influencers, engage our followers and collaborate with other brands to maximize outreach. I've even learned to ride half centuries with a seven pound camera on my back.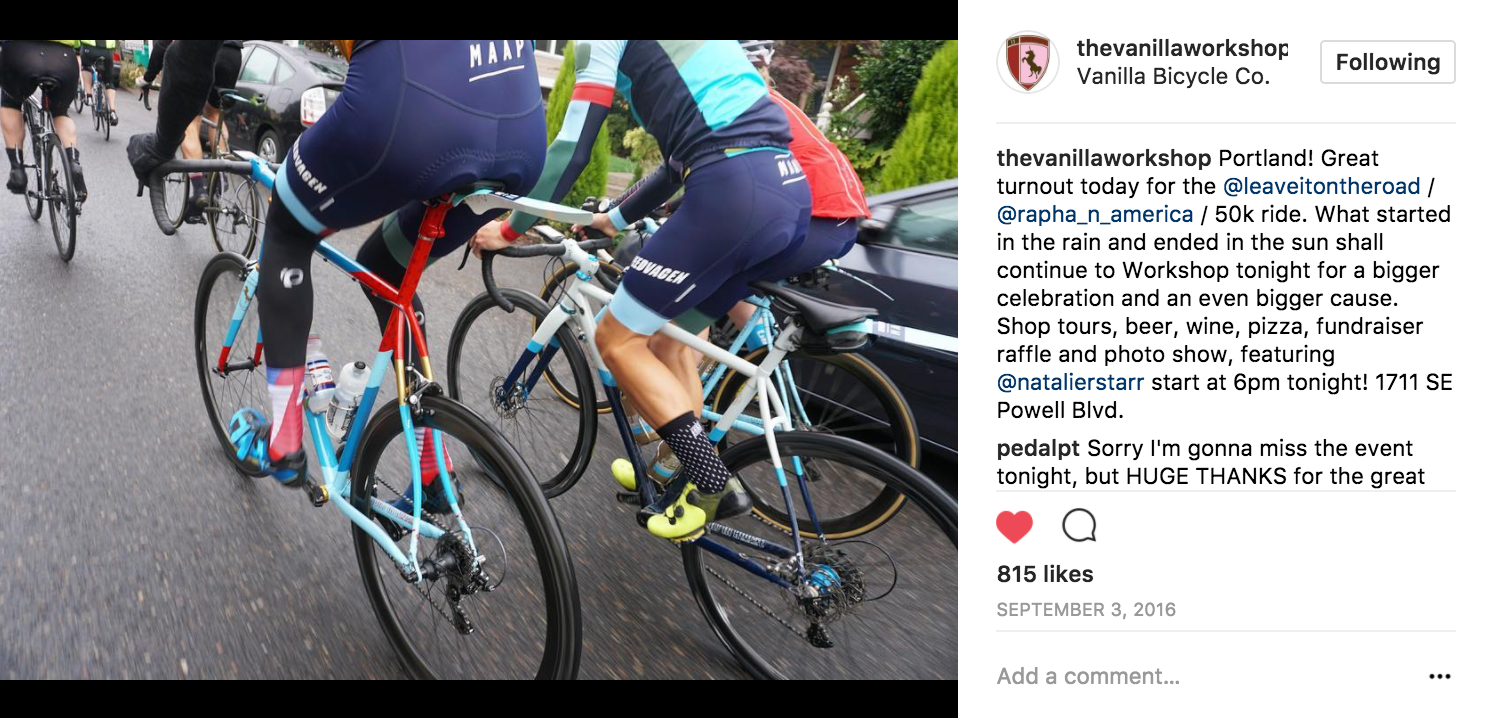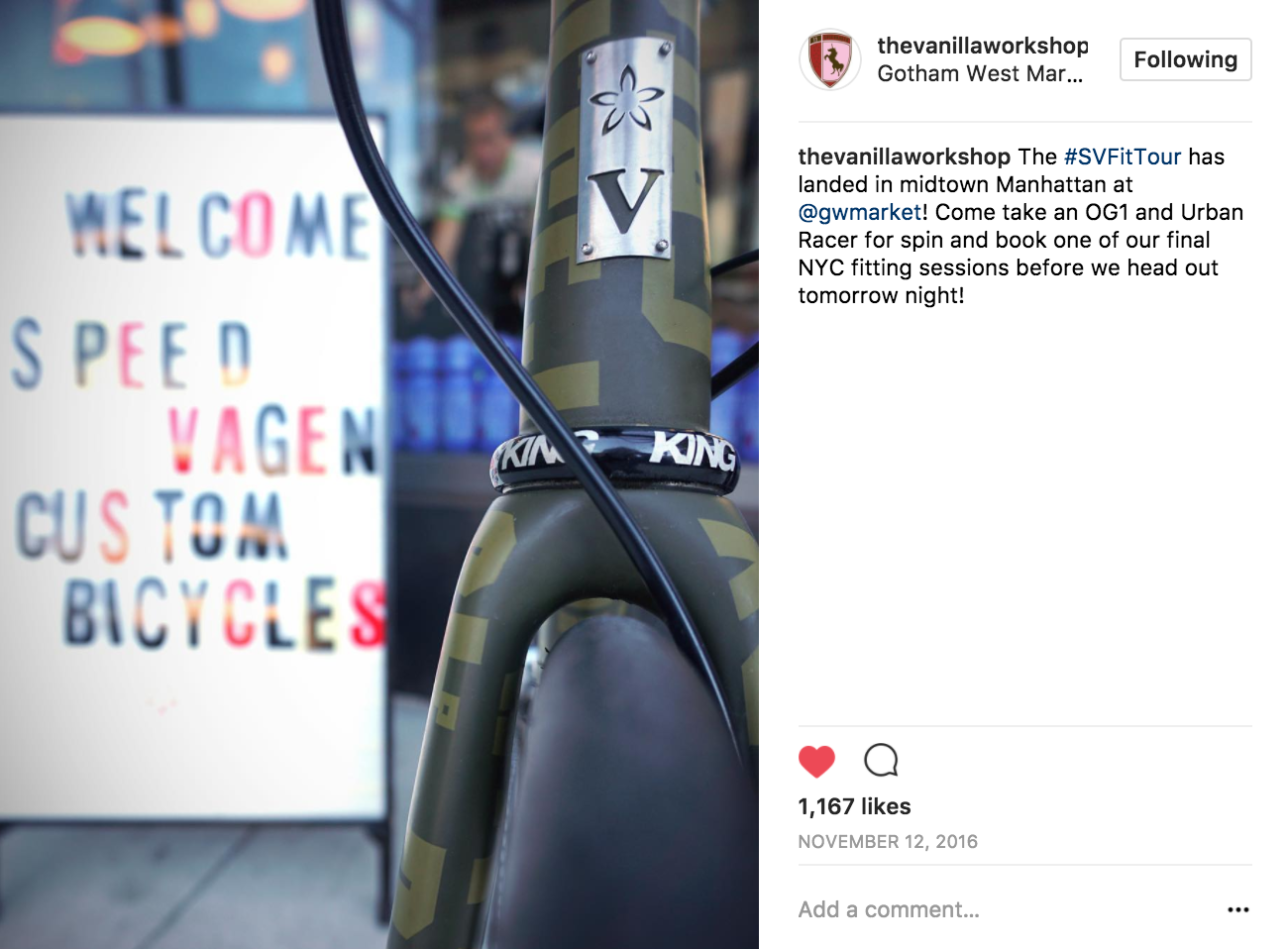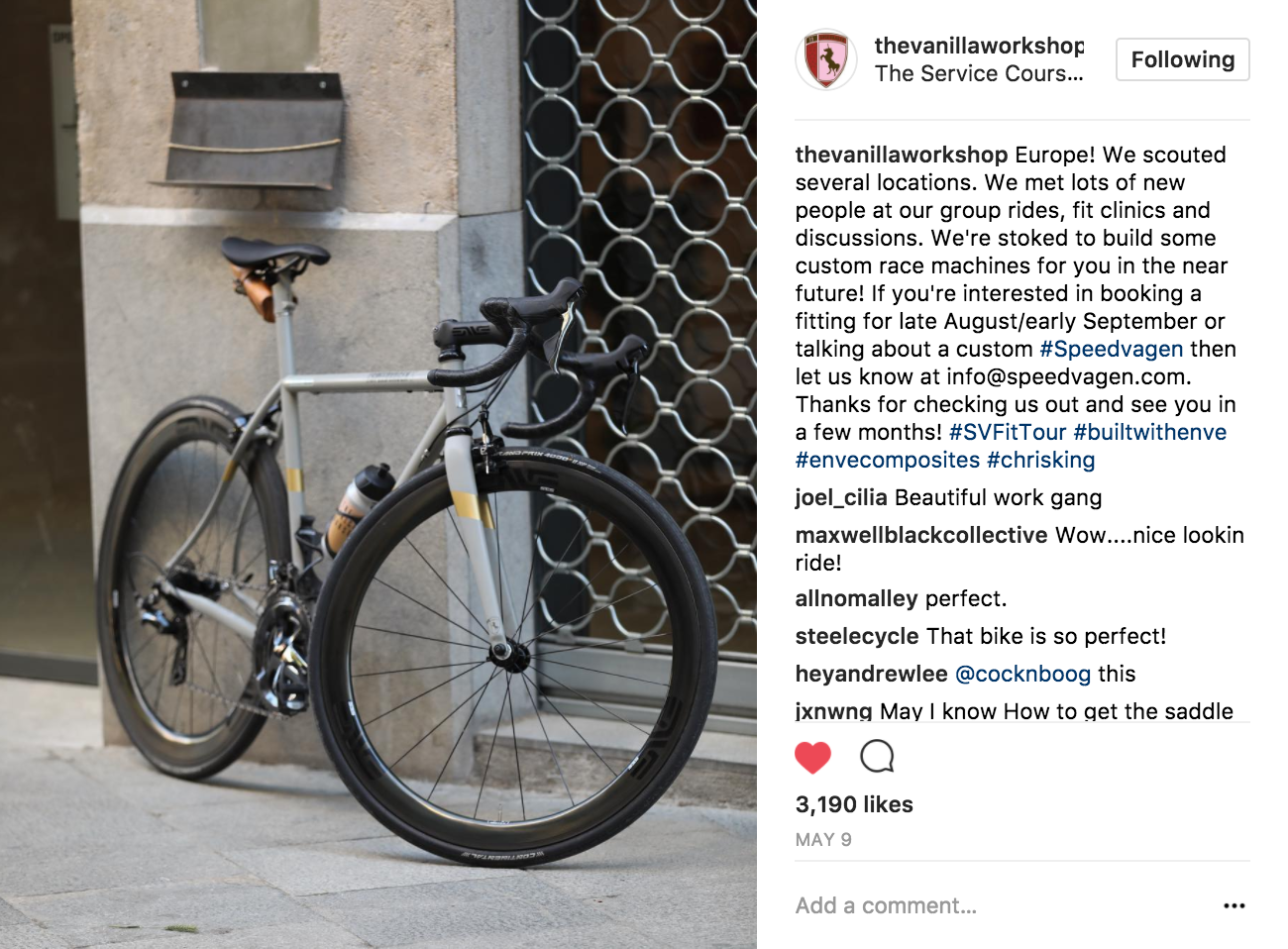 RESULTS:
Instagram
August 2016 = 50,000 followers
August 2017 = 69,100 followers
Facebook
August 2016 = 8,750 followers
August 2017 = 11,004 followers
From endemic/non-endemic partnerships to public relations to influencers is key, my role hinges on building and fostering relationships.
Some key partnerships over the last year
The Speedvagen Experience at The Service Course
Former World Tour professional and Speedvagen owner, Christian Meier started a shop in Girona, Spain called The Service Course. They offer customers the same treatment that he received while riding races like the Tour de France. Christian's first bike he purchased for himself after his race career and sponsorships ended was a Speedvagen. With his riding knowledge and love of his custom bike, there's no better ambassador of the brand so we partnered with him and his shop. We provided him with a full fleet of bikes, collaborated on a cycling kit and built an experience package to offer customers and Speedvagen owners around the world a centralized hub to try out a Speedvagen and experience the brand on the same roads the pros train on.
Speedvagen + Rapha
Rapha and Speedvagen are to brands that have been on each others radars for sometime due to similarities of blazing their own trails. From the beginning we've built bikes for several key players at Rapha, but lately we've been discussing more and larger partnerships. For the past year, they've played a major role in Fit Tours by allowing us to use their clubhouses in cities, like New York, Chicago, Tokyo, San Francisco, Melbourne, Amsterdam, Copenhagen and London. I've worked with their Chief Marketing Officer and clubhouse marketing managers to create, plan, promote and execute events at each of these stops. A highlight was in London where we featured founder Sacha White, Rapha founder and CEO Simon Mottram and renowned suit maker Timothy Everest for a discussion on non-standard business and blazing their own trails.
Speedvagen + Pretty Damned Fast
While our analytics show us that males make up 90% of our audience, women riders are important to us. Our cyclocross race team is evenly split and we strive to do more outreach to women when we see opportunities. Recently on the East Coast and Texas Fit Tours we partnered with Pretty Damned Fast to host two women-only Fit Clinics giving us the ideal setting to empower women with some basic bike fitting skills. Many smaller brands make universal sized bikes that may skew more towards men so it was great to be able to help women understand how to determine their ride position and how that can help them understand if a bike properly fits them.